Openly Aging with Allison O'Shea
Arista Wealth Podcast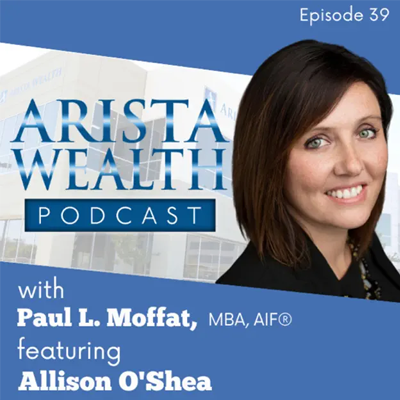 Despite the fact that aging is inevitable, it's a conversation that many people choose to avoid at all costs. But today, Allison O'Shea joins us to explain why talking openly about aging is the key to aging gracefully and eliminating ageism. After 17 years of working as an Executive Director for various assisted living companies, Allison founded Openly Aging with the mission of changing how we talk about aging. During this episode, she runs us through the 5 questions that everyone who is approximately 10 years away from retirement age should be asking themselves. From identifying your support system to knowing your financial situation, you'll leave this episode with a better understanding of how to take control of the aging process in a way that will benefit you and your loved ones!
Key Points From This Episode:
Allison shares what motivated her to found Openly Aging, LLC. The importance of identifying your aging support system years before you are likely to need them. How understanding your financial circumstances will stand you in good stead during your later years. The various care options available for aging populations. Examples of information that you should be communicating with your aging support system. The length of time you should expect to be waitlisted prior to entering a retirement community. How aging can cause tension between you and your loved ones if you don't listen to them. An overview of the aging plan that Allison creates with her clients. Where you can find more valuable information about Openly Aging.
Tweetables:
"Your support system should be somebody that you can have full disclosure about your goals, finances and any concerns that you have." — Allison O'Shea [0:08:55]
"Where I see people are most successful living independently as long as they can, [is] if they're willing to accept support here and there." — Allison O'Shea [0:11:11]
"We also have to be aware, as we're aging, our ideal blueprint may have to change. The course of care due to a new diagnosis, due to a medical emergency may have to be altered. You have to trust the support system you have put into place that they have your best interests in mind." — Allison O'Shea [0:13:17]
"If we have a plan in place that we've communicated, we keep control of our aging to the best of our ability, which will then eradicate ageism. My goal is to help people keep control of their aging as long as possible." — Allison O'Shea [0:16:45]