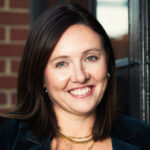 Your Personal Aging Advisor
Hello!  My name is Allison O'Shea and I am the owner and founder of Openly Aging, LLC!  Welcome!  I am here to help aging adults and their families navigate a world that has become very complicated.  My 18 years of working directly with older adults and their families led me to pursue the ultimate dream that is this company; in this role, I can ensure that you or your loved one are accessing every resource available in a way I felt I couldn't do in my previous career.  I am eager to be your advocate!
Everyone's aging path is different.  You and I will have an open dialogue about what is important to you.  We will discuss opportunities, resources, supportive services, and I will help ensure that you exercise your right to freedom of choice when it comes to the way you want to age.  I will be your Aging Advisor, providing a blueprint for you as we walk hand in hand exploring the vast options available to make your aging experience as supportive as possible. I will open your eyes to the many resources and services that are available to you as you age.  My career and reputation have opened up doors for so many connections and resources, and I am now eager to put them to use on your behalf!
My mission is to work for you and help advise you through what is often a confusing and muddled path filled with misinformation.  I will be there to help you put a long term plan in place and guide you through execution of that plan.    I am passionate about helping you find your way.  Thank you for trusting me to help you age freely and openly!