Maintaining Optimum Control Over Aging:
The "Openly Aging" Model
Living to 100 Club Podcast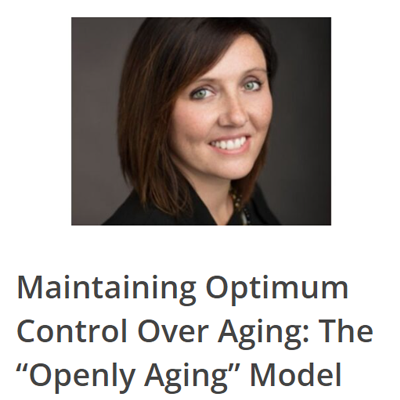 This Living to 100 Club Podcast explores various tips on how to navigate the aging process, especially post-retirement. We explore questions to ask and steps to take to be prepared financially, socially, and spiritually. Our guest for this program is Allison O'Shea, the owner of her company, Openly Aging. We discuss how to maintain maximum control over aging by addressing several questions, making informed decisions, and putting plans in place to stay positive and in control. How can we avoid last minute, rushed decisions about managing major life events? How do we to communicate our wishes and plans to those in our family and support system? And how does taking control avoid the likelihood that others will make decisions for us? These are important questions to consider, as you will hear from our guest.
Mini Bio
Allison O'Shea is a leader in the aging industry. She has over 18 years of direct hands-on experience working with seniors and their families in the role of Executive Director for various Senior Living companies. This experience has given her the knowledge to be a reputable voice in the confusing and overwhelming world of aging.
In January of 2022 Allison opened Openly Aging, LLC. Through Openly Aging, Allison helps families navigate all the options and resources available to them. One of the missions of Openly Aging is to bring education to the community to be a change agent in how we talk about aging moving forward.